Case Study: Delivering Under Tight Deadlines for GM Components Holdings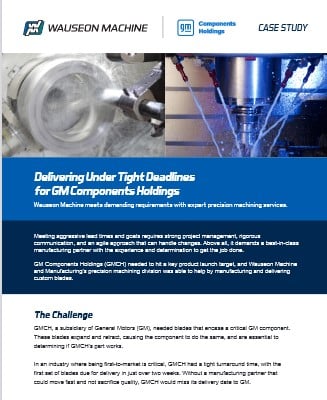 Wauseon Machine Meets demanding requirements with expert precision machining services
GM Components Holdings, a subsidiary of General Motors (GM), needed an extremely high-quality precision machining solution for their complex multi-part blades, all with extremely tight turnaround times. Since the project required exemplary orchestration and communication, as well as world-class precision machining services, they turned to Wauseon Machine.
Download our latest precision machining case study now to explore how Wauseon Machine delivered a best-in-class machining solution, including:
Evolving requirements and specs throughout the life of the project
A masterclass in project management including cross-functional project teams and communication rhythms
Rapid turnaround and meeting tight deadlines without sacrificing quality
Incorporation of custom branding needs
Complete the form on this page to read the case study now.