Critical Insight for Maximizing ROI and Minimizing Risk at Your Manufacturing Company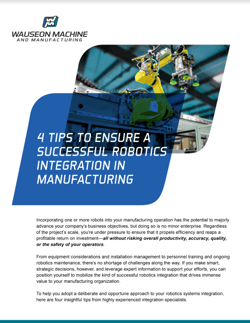 While you may recognize the business value that can be gleaned from leveraging one or more robots in your manufacturing operation, you probably have some significant concerns about how to make this effort as successful as possible.
After all, a robotics systems integration is a big investment, and you're responsible for ensuring that it propels efficiency and ROI without risking productivity, quality or safety.
Inform your approach with these insightful tips from highly experienced integration specialists.
Fill out the form to download your free copy of 4 Tips to Ensure a Successful Robotics Integration in Manufacturing and uncover:
The role business goals play in formulating a robotics integration plan
How to involve valuable team members
Which partners are best poised to support your efforts
And much more
Leverage this expert information to mobilize the kind of successful robotics integration that drives immense value to your manufacturing organization.