6 Key Questions to Ask Before Hiring an Authorized FANUC Integrator

Wauseon Machine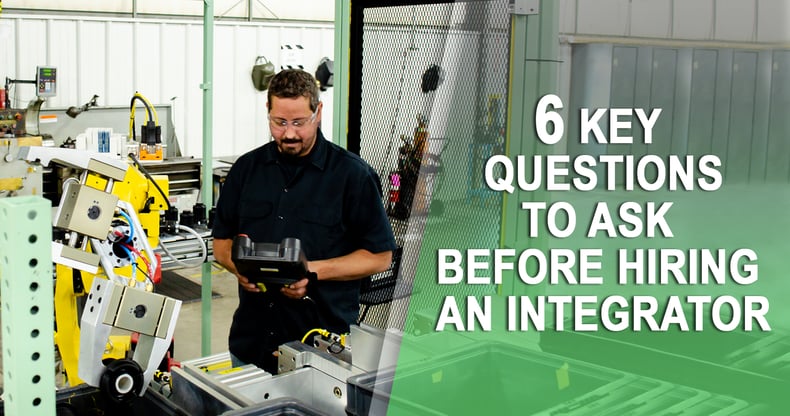 Your business is on track to make a wise investment in robotics. You've acknowledged the many profitability advantages this decision can reap for the organization, and now you're thinking ahead to the integration plan. There are loads of questions to be asked, not the least of which stem from understanding the kind of robotics integrator you should hire in order to achieve the most successful outcome.
In fact, your choice of integrator is one of the most important decisions you'll make throughout this process. Why? Because not every entity who knows how to integrate a robot within a business operation has the distinct training, knowledge and experience to do it well. In other words, it takes a special type of expert to implement the kind of robotics integration that actually transforms your business and supports you in achieving the ROI you were seeking in the first place.
In the spirit of helping you source an integrator with expertise in not only FANUC robots, but also the factors that can guarantee success from your integrated system, here are six critical questions to ask before making a hiring decision.
1. Do you have experience with our specific application(s)?
Robotics integrators need to know more than the ins and outs of the equipment itself; they must be intimately familiar with the specific applications for which those machines will serve a function. After all, if you don't understand the inner workings of a particular production process, you can't possibly design and perform an integration plan that optimizes that process effectively.
As part of the search and vetting process, be sure to find out whether each prospective partner has experience with the precise application you're looking to enhance through robotics. And get a clear picture of just how extensive their experience in that application really is. This will be one of the major indicators of how well they can meet your unique business goals and needs.
2. Are you an established FANUC ASI?
As one of the world's leading robotics suppliers, FANUC designates Authorized Systems Integrators (ASIs), or partners who can meet and maintain specific standards of sales and quality. Identifying whether prospective integrators are FANUC authorized is another important step in the decision-making process. Doing so gives you insight into the staff's level of training for staying up-to-speed and knowledgeable about FANUC technologies.
When it comes to the ASI designation, there are two important areas to inquire about:
At what level (I, II, III or IV) have they been authorized? The higher the level, the more FANUC robotics integrations they've completed and quality thresholds they've maintained.
Are they also a FANUC Certified Service Provider? This means their staff is trained and authorized by FANUC to administer warranties and repair the robots. In order to acquire this status, the provider must inventory spare parts and meet certain training milestones. It's worth mentioning that while FANUC has designated 800 ASIs in North America, only about two or three percent of them are Certified Service Providers.
3. How long have you been integrating robotics?
Breadth and depth of experience is a fundamental indicator of how well suited a robotics integrator is to achieve the kind of outcomes you desire for your investment. Partners like Wauseon Machine, who have been integrating robotics systems for over 20 years, bring unmatched expertise to the equation, given their practice working with all types of businesses exuding varying needs and nuances.
When it comes to start-ups with less time on the job, there's always some concern over whether the company will still be around in a couple of years. Given the importance of thinking to the future of your integrated systems, you'll want to be reassured that the partner you've chosen is stable enough to support your needs several years down the road.
4. How have you helped other companies like mine?
Don't hesitate to ask how prospective integrators have positively impacted other businesses that are similar to your own. In addition to performance indicators like increased throughout, reduced labor costs and cutbacks on waste, there are the lesser understood (but equally important) benefits derived from working with an experienced robotics integrator who can optimize elements like Overall Equipment Effectiveness (OEE).
For more clarity on this, let's take a closer look at system recovery logic. Say your system stops running production. It could take an operator or maintenance provider 15 minutes to figure out how to get that system back into production. A highly experienced ASI, however, can design the type of system that will quickly ascertain the problem and nearly auto-recover within 2 minutes, saving significantly on the expense of downtime.
This is a prime example of what it means to work with a robotics integrator that wholly understands how to release the true power of the FANUC product. Inexperienced providers may know how to make the robot move, but do they have the exhaustive expertise to integrate systems and softwares that achieve the most successful and profitable outcomes?
Therefore, find out how each provider has helped similar businesses glean the best OEE and other ROI numbers from their robotics integration. If you're going to spend the money on this capital expense, you should feel confident that you're poised to see the greatest return on it.
5. Can I meet the team?
If you'd like to peel back the curtain on the sales process even further, inquire about visiting the integrator's facility and meeting the team. Doing so offers an even deeper look into the factors that differentiate one provider from another. It can give you a better feel for the entire operation and the people who will be managing your integration project along the way.
6. What level of service do you offer after the sale?
It makes sense that you'd want to know how a provider plans to support your business once the equipment is up and running. So be sure to find out how the integrator will function in a service capacity to address ongoing needs and ensure the system performs the way it was designed. Examples of these types of service and support offerings might include:
Training
Remote support
Troubleshooting assistance
24/7 hotline
These provisions illustrate how dedicated the provider is to ensuring the success of your robotics integration, even after the initial design and implementation is complete. Ultimately, it's another opportunity for you to decide how comfortable each prospect makes you feel in terms of their ability to deliver on your business objectives and needs.