Palletizing Robots: An Optimal Solution for Addressing Labor Shortages

Wauseon Machine
In today's fast-paced industries, manufacturers are confronted with a critical shortage of labor, compounded by the constant need to keep up with advancing technology and rising costs.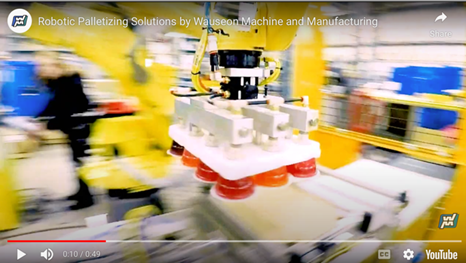 Across various sectors, manufacturers are grappling with a scarcity of skilled workers entering the field. The limited number who do join the manufacturing workforce often choose higher-level positions in engineering and product development, rather than directly engaging in the production of parts or consumable goods. This shortage of skilled labor leads to inefficient processes, lower profitability, and a lack of flexibility to meet growing demands.
The Role of Palletizing Robots
For over two decades, Wauseon Machine Company has seamlessly integrated FANUC robots into manufacturing processes, effectively tackling these issues while enhancing efficiency and productivity. Palletizing robots have emerged as a highly effective solution, addressing manufacturing challenges in diverse ways with remarkable success.
Increased Productivity and Efficiency
Palletizing robots are characterized by their high speed, efficiency, and accuracy, all of which contribute to significantly increasing productivity. They are capable of handling multiple tasks simultaneously and can operate tirelessly 24/7, eliminating the human limitations of fatigue and inconsistency. Their precision reduces the risk of product damage during handling, thereby enhancing the quality of output.
Enhanced Worker Safety
In addition to efficiency and productivity, using robots also enhances worker safety. By automating repetitive tasks and handling heavy materials, robots significantly reduce the risk of work-related injuries, ensuring a safer work environment for all employees.
Flexibility and Scalability
Moreover, palletizing robots can be designed with the flexibility to seamlessly adapt to changes in product lines or packaging requirements. The integration of palletizing robots also dramatically expands scalability — empowering manufacturers to quickly scale up production volumes without compromising efficiency.
Optimizing Resource Allocation
One of the key benefits of Wauseon Machine Company's robotic solutions is the ability to reallocate valuable labor resources within a company. By automating repetitive and labor-intensive tasks, businesses can redirect their workforce to more strategic and skilled roles, optimizing resource allocation and maximizing return on investment.
Watch Wauson solutions in action
Watch this video highlighting the wide range of Wauson's robotics implementations, with examples from the food, furniture, and automotive industries. The applications encompass a broad spectrum, adeptly managing a diverse range of items, from small and fragile items to large and weighty objects. The video demonstrates the robots' versatility in tasks such as picking, palletizing, and depalletizing operations.
From efficiently handling small food containers placed on cardboard slip sheets to managing bag palletizing, empty tray palletizing, and even automotive casting depalletization, these robots exhibit their ability to deliver consistent results across multiple industries.
The Wauseon Approach
At Wauseon Machine, our approach begins by thoroughly understanding our customer's needs and the reasons behind their requirements. We then proceed to determine the key success metrics and evaluate any existing or perceived barriers. This enables us to develop a tailored solution that addresses these challenges effectively.
Next, we assess the compatibility between our capabilities and the specific project. Wauseon Machine brings extensive expertise to the table, allowing us to swiftly devise a comprehensive concept and provide a cost estimation. By doing so, we facilitate a prompt resolution that aligns with our customer's objectives.
Comprehensive Analysis
To ensure a holistic approach, we conduct on-site visits to thoroughly review our customer's manufacturing processes. This includes not only addressing the immediate application but also considering the broader perspective – both upstream and downstream. By doing so, we develop a system concept that remains flexible to meet today's needs and can adapt and scale to meet future demands.
Validation through Advanced 3D Simulation
To validate our proposed solution, we utilize advanced 3D simulation techniques to provide a visual representation. This allows our customers to assess key factors such as cycle time, scalability, flexibility, and the overall impact of their investment in robotic automation.
Delivering Tailored Solutions for Long-Term Success
At Wauseon Machine, we are committed to delivering comprehensive solutions that drive efficiency, productivity, and long-term success for our valued customers.